Hello people,  
Now that we've finally found a few minutes away from the daily grind, we thought we'd write up a bit of an update to let you all know what's been happening here at D.i.D.  
 - First, there are a few updates on the progress of
Sideshow 59
's next album
Free Admission Vol. II
. There are now five new songs that have gone into production for the album:
Vertrag
Calloused
Dose
Subduction
In Rhyme and Riddle
For those that have been following the band since the Myspace days (that would mean... atleast three years of following) you may recall a previous version of the song, "Vertrag."  While that version was, originally, supposed to be featured on the debut album
Free Admission Vol. I
, it was discarded, last minute, from the track list as the quality of the song was not acceptable by Sideshow 59's standards.  Because of this, it has been rewritten, recomposed, and recorded, once more, for release on the second album Vol. II, and is currently in post-production.  Expect to hear Vertrag up on the page within the next forty eight hours.  
What's more, the loyal listeners may also recall an earlier track released by
Kodi Vanei 
titled, "Calloused," as well.  This track (which can be found on Kodi's profile page) was an instrumental, strictly acoustic guitar piece that was, originally, never intended to be finished.  Those original intentions have been abandoned now in 2013, and Calloused will be re-released to the public on Sideshow 59's second album, complete with the entire band set up, and a brand new set of lyrics to fit the old melody.  
The next three tracks, ("Dose," "Subduction," and "In Rhyme and Riddle,") are brand new and can be expected to be up on the page within the next month or so (depending on how much studio time there is available for recording and post production).  
- Secondly, you may notice a new link at the top of the page: "Store."  We are currently working on getting the store (as promised) finally set up and operational.  While there is still much work to be done (as far as product availability and stock orders) we have made it public for those who have expressed interest on what it was going to like.  At present, we have only put up a few of the products that will be sold on behalf of Sideshow 59, but they will not be available for purchase until the store is complete (along with the various other items that will be sold).  
- What's more, Sideshow 59 has also received the first test batch of their hard copy CD's for Free Admission Vol. I.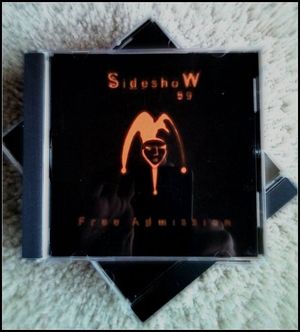 We will be putting in a bulk order, very soon, to have as many on hand as is needed incase anybody may happen to interested.   
- Lastly, we have recently acquired the needed equipment to launch our Video portion of the website.  That's right - D.i.D will be releasing, in the near future, various different video clips, comedy skits, music videos, and short films.  This will also mean a whole plethora of "live performance" videos (as requested in various emails both here and on facebook) from Kodi and Loki. 
Good stuff to come in the near future, so keep listening people!  
Don't forget to stop by
Sideshow 59
's facebook page for direct interactions!
http://www.facebook.com/sideshow59