The release of Sideshow 59's third studio album, "Tainted" is so close we can tasted it.  With three days until the release we have never been more excited!  This is the first time in the bands history that an entire album is being released at once (vs. the method of releasing each song individually once completed as was the case with Vol. I and Vol. II).  A little bit of information regarding this new album: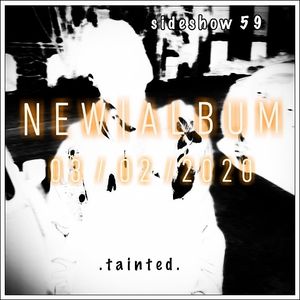 Album Title: Tainted
 
Track List: 
1. Spin
2. Dissonance
3. Lucid
4. Stranger
5. Vexation [Explicit]
6. Wicked Game
7. Paths 
8. Tainted
9. Losing My Religion
10. Red
11. Breathe
12. Red or Green? 

Produced by: Kodi Vanei, Sideshow 59, D.i.D Productions 
Recorded at: My Bedroom Closet


There may be a couple of tracks that seem a bit familiar for those that have been following the band since it first came to fruition (we'll let you guys figure out which ones) and you may notice a difference in style in comparison to Vol. I and Vol. II.  Unlike Free Admission, Tainted is the first album SS59 has done from start to finish with a generalized theme (of which will definitely become evident from the moment one starts listening) and that fact has definitely had an impact on the performance style of this new album.  
Tainted will be available on all digital formats (iTunes, Apple Music, Spotify, Amazon, etc.) and hard copies will be available for purchase right here on the website on the aforementioned release date (which is this upcoming Monday, by the way!) or, of course, on the merch table at a show.  
We cannot wait for you guys to hear it!