Well it has, indeed, been quite a while since we've had any news to report for you, our D.i.D listeners, but fret no more - there are a couple of new things to hold your fancy!  
First and foremost,  Sideshow 59 has completed their first album, "Free Admission:  Vol. I" and as promised, it is available both for streaming here on the website, or free download to any/all of our D.i.D Members.  If you haven't created your profile yet, do so ASAP and download the new album to have it accessible to you whenever you see fit!  
As a result of the completion, Sideshow 59 will now begin production on "Free Admission:  Vol II" which will feature a whole new playlist as well as the original versions of some of the tracks on Vol. I.  While they will be releasing tracks as they are produced for the new album, the bulk of it is expected to be up and available early August.  Keep an eye out for the new tracks!  Here's a bit of a teaser for ya: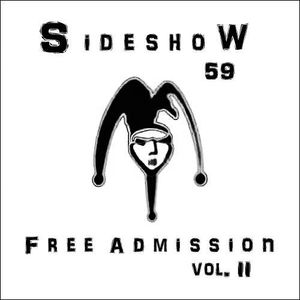 Also, Sideshow 59 has been included in iheartradio.com's  list of Undiscovered Artists.  With the NEW! profile set up for Sideshow 59, this means that there is now an option of potential radio airplay.  How, you ask, might that be achieved?  Simple, is our response:  visit the Sideshow 59 artist page on iheartradio.com by visiting the following link (http://www.iheartradio.com/new2/artists/s59) or by simply
Clicking Here
, and listen to the tunes!  The more plays Sideshow 59 has on it's NEW! profile, the better than chances are of hearing them on your favorite radio station!  You can also call your favorite station and request it - but let's be honest, without a whole lot of plays first, they aren't gonna know who the hell Sideshow 59 is.  :-P  Let's change that! 
That's all for now, folks!  Go get SS59 some plays, create your profile and download the tracks for free, and keep rocking! 
 - D.i.D Administration